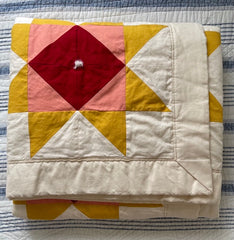 Our workshop schedule for autumn and winter is packed with so many talented teachers! Join us as we have a chat with these creative folks to find out more about them and their upcoming workshop at Stag & Bow.
---
Embark on a captivating journey into the colourful realm of quilting with Kate Owen. Inspired by the timeless beauty of antique textiles and wallpapers, we love Kate's distinctive designs. A skilled quilter and patchwork enthusiast since childhood, Kate's workshops at Stag & Bow promise a hands-on exploration of her craft, blending tradition with innovation. With her infectious enthusiasm and beginner-friendly approach, she makes the world of quilting accessible to all! 
We're looking forward to her Lavender Patchwork Star Workshop, Christmas Stocking Workshop and Introduction to Quilting! 
Can you tell us a little about yourself and how you started your crafty journey?
I've loved making things from a very young age and always knew I wanted to pursue a creative career. I studied Textile Design at Central St. Martins and ended up working as a Fabric Buyer for many years, which gave me invaluable business and technical experience. I always maintained my own design work on the side along with teaching quilting classes, and after lockdown, having my daughter, and the company I was working for collapsing, I went full time with my textile design business.
We love your use of colour and pattern! How would you describe your style and inspiration?
I have a very traditional style, I love things that look timeless and are rich with colour and pattern. I really enjoy getting inspiration from antique textiles and wallpapers, and I often develop initial patterns and ideas on my computer, seeing where playing and developing a design takes me. I've spent so much of my education and career studying and analysing colour, it's something I feel very passionate about. My best friend recently bought her first house and she's let me choose every single paint colour in it! She knows I've got an eye for colour and fortunately loves everything I suggested.

Did quilting and patchwork play a big part in your childhood?
I made my first quilt when I was around 4-5 years old (with grown up help of course) and I can remember it quite clearly. It was at a folk music session that my dad had taken me to. Sessions are when people gather to play music together, often at someone's house, and the woman who lived in this house had a quilting room. To keep me occupied whilst my dad was playing music, we made a little quilt together. Little did she know what lifelong passion she was sparking off! I still have that little quilt and it's very precious to me.
You have three fun workshops coming up at Stag & Bow, Lavender Patchwork Stars, Stockings and Learn to Quilt! Can you tell us a little more about what people can expect?
Apparently I come from a long line of teachers, which makes sense because I really love teaching! Being the eldest of four children has also given me plenty of training in seeing things through the eyes of someone who hasn't done something before, so that I can work out how best to describe and explain things. In each of my three workshops all materials are provided and you will leave with a finished item.
The Lavender Patchwork Stars are hand sewn (perfect if you don't fancy using a sewing machine) and you will get to take home your star template, so you can make many more stars if you find them as addictive as I do. They make fantastic little gifts for friends and family and are a great way to use up scraps of fabric.

In the Patchwork Stocking Workshop everyone will be using one of my Pagliacci Patchwork Stocking Kits to make a finished stocking. Stockings were a very important part of my Christmas mornings growing up. I had a beautiful patchwork stocking made by my godmother, and it was her stocking that inspired me to make patchwork stockings and kits of my own.

In my Introduction to Quilting Workshop we cover every step of making a quilt, and you will leave with a finished mini quilt to take home. There are many stages to making a quilt, which can be a little daunting to a beginner, but this class shows what happens at each step so that you feel confident about starting a larger quilt of your own, or improving your next quilting project.

For anyone who comes to one of my workshops, or anyone interested in quilting, I am always available for any questions and I truly love to talk about quilting! The easiest way to get in touch is through my instagram @kate.owen.

What sort of crafters should have a go at quilting?
I design all my classes and kits so that everyone can have fun and achieve a sense of accomplishment and they are all very beginner friendly. I always go around and help everyone individually, so that everyone knows what to do and how to do it. I once had a woman come to one of my quilting classes who had never used a sewing machine before! By the end of it she was whizzing away with everyone else.


What's next on the horizon for you or do you have any exciting projects you're working on at the moment that you'd like to share?

I have so many projects and ideas I'm working on! Kits for cushions, kits for advent calendars, more quilt designs, and kits for lavender stars. I always have an endless number of quilt designs that I want to sew. That's the joy of quilting, the possibilities are endless and it's very addictive. I would also love to create online tutorials for people to use. I've done some printed fabrics for cushions and stockings that have been very fun, printed fabrics by the metre could be an exciting thing too. Much of my work is also making commissions for people, quilts or wall hangings for their home, and sometimes very special pieces using baby clothes or the clothes of a loved one. At the moment I just feel so happy to be so busy doing what I love!