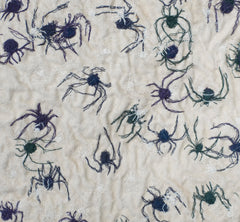 "Clothing is...an exercise of memory.. It makes me explore the past...how did I feel when I wore that..." 

—Louise Bourgeois
The spider, a central theme in her work, is a relentless repairer, always mending, always weaving, always providing and protecting. 
"The spider—why the spider? Because




my best friend was my mother and she




was deliberate, clever, patient, soothing,




reasonable, dainty, subtle, indispensable,




neat, and as useful as a spider."
For Bourgeois, the spider is a perfect motif, both repairer and mother, also protector against evil and illness. Her own mother - reliable, inventive and steadfast was an inspiration to her throughout her life. The spider appeared throughout her career in drawings, prints, the famously enormous spider sculptures, and also in a series of 9 delicate drypoints in Ode à Ma Mère, a book published in 1995.
For International Women's Day this year the featured cushion, made by Pia, is tribute to Louise Bourgeois, made for an exhibition by South London Women Artists in 2016. Pillow Talk: conversations with women, was a collaboration SLWA and the Women's Art Library (WAL) which brought together a WAL mobile archive inside a transparent igloo, with seating of handmade pillows made by SLWA artists - an exhibition of women being inspired by women, curated by Melissa Budasz, Moira Jarvis, Jasmine Pradissitto & Kim Thornton.
A tribute to Louise Bourgeois

For Pillow Talk: conversations with women
Currently on at the Hayward, Louise Bourgeois: The Woven Child is the first major retrospective of her work focusing on fabric and textiles. These works, mainly made from the 1990s onwards, come from her digging into a lifetime's accumulation of clothes. Reusing them as sculptural element in her work in monumental installations, figurative sculptures, collages, books, she also uses bed linen, hankies, terry cloths. It's almost fabric as photo, textiles holding the history of a person, the touch of a body, the memory of place and event.
In her career she embraced many techniques - painting and printmaking, drawing, and sculpture, textiles, alternating between form and material, figure and abstraction. Her interest in psychoanalysis gave her the tools to deal with loneliness and fear, anger and jealousy, and in the magic power of the needle she found an ability to repair and restore both actually and symbolically. Raised in a family who ran a tapestry restoration business in Paris in the early 1900s, she learned early on the power of the process of restoration, and came to understand the act of making art as a guarantee of sanity.
Text by Pia Goddard
Louise Bourgeois: The Woven Child
On at the Hayward until 15 May.
www.southbankcentre.co.uk