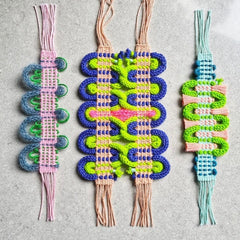 Our workshop schedule for autumn and winter is packed with so many talented teachers!
Join us as we have a chat with these creative folks to find out more about them and their upcoming workshop at Stag & Bow.
---
Elizabeth Ashdown is a trailblazing passementerie artist, redefining the art of decorative textile embellishments. Her intricate craftsmanship and boundless creativity have earned her a well-deserved place among the foremost artisans in this field. With a keen eye for detail and a passion for reviving traditional techniques, Elizabeth's work breathes new life into age-old artistry, offering a fresh perspective on the beauty of woven and ornamented textiles.
We can't wait for Elizabeth to share her skills at our Passementerie workshop Saturday 28th October 2023. The workshop will teach you the introductory passementerie weaving skills you need to create your own fabulous hand woven designs bursting with colour, texture and pattern. Book your space here.

Hi Elizabeth! Tell us a little about yourself and how your journey with Passementerie started?
Passementerie is an amazing form of both art and craft. It seamlessly blends the very best of human creativity and ingenuity to create luxurious and decorative objects and trimmings that are traditionally used within interior design - think pom pom braids edging a blind, to luxurious, deep bullion fringe on a sofa edge and fabulous, swaying tassels decorating curtains, tassels and lampshades.
In the UK, passementerie finds itself listed as an endangered craft by Heritage Crafts, signifying a critical threat to its continued existence.  I am one of only 5 hand Passementerie artists working in the UK today and I approach the craft through a unique and contemporary viewpoint. At the heart of my own work with passementerie is my belief that in order for the craft to not only survive, but thrive, the skills, forms, aesthetics and contexts of the craft must be made contemporary and relevant in order to appeal to a modern sensibility. Through innovating with colour, pattern, technique, material and scale, my practice focuses on promoting and appreciating passementerie for what it is - a true art form.
Working from my studio in London, I create hand woven work for a diverse range of clients including creating hand woven, bespoke artwork commissions for private collectors, to creating artworks for exhibitions and weaving bespoke passementerie lengths.
What is one of your earliest textile memories?
Charity shopping every Saturday morning with my Mum! I would rifle through the craft bins to find fabrics, threads and sequins to make all sorts of textile items at home. I remember being particularly proud of making a textile and pine cone hedgehog pin cushion at school!
We're looking forward to your workshop at Stag & Bow! What can people expect from whole day of Passementerie fun?
A lovely and relaxed day of learning and play with new techniques and new materials. We will be learning how to make two passementerie designs that are rooted within traditional passementerie craftsmanship techniques which I have reinterpreted for a contemporary audience.
We will also be learning the traditional art of hand cord spinning and every learner will make a selection of their own cords to use within their weaving. Even though we will all be making the same designs, everyone's samples will look totally different due to the colours and materials everyone decides to use. I bring a huge range of beautiful materials with me - including cottons, wools, silks and a wide range of fancy and special effect yarns.
I very much encourage everyone to explore and play to find their own voice within their designs. You will learn a lot!
Do participants need any crafty experience to take part, or can anyone join?
Anyone can join us! You don't need to have any experience of passementerie, or any experience of weaving. I've taught everyone from accountants to IT project managers - complete textile beginners, to people with 30+ years of making textiles. Anyone with an interest in textile craft and art will benefit from joining this class. Passementerie weaving can be combined with other crafts, for example knitting, or embroidery, to create some very special textile items.
My teaching style is welcoming and accessible - I break every step into small chunks and repeat every stage until everyone is sure of what they are doing.
What's next on the horizon for you?
I have just finished a large hand woven artwork commission and I will shortly be weaving a bespoke length of passementerie for a couture fashion designer. My book  'Passementerie handcrafting contemporary trimmings, fringes, tassels and more' will be published by Schiffer in January 2024.