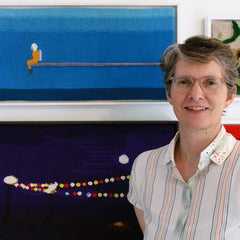 Our workshop schedule for autumn and winter is packed with so many talented teachers!
Join us as we have a chat with these creative folks to find out more about them and their upcoming workshop at Stag & Bow.
Join us as we delve deep into the colourful world of tapestry weaving with Bridget Lane.  Influenced by the forms of late modernism her works is often based on the urban and the everyday, a response to the seemingly mundane, a way of reinterpreting the world around her.
With her remarkable skill, dedication to the craft, and boundless creativity, Bridget weaves warp and weft to create intricate narratives. Don't miss the opportunity to learn this amazing craft that merges tradition with contemporary artistry, Bridget will be teaching at Stag & Bow this autumn, book your place here!
Hi Bridget! Could you tell a little bit about what tapestry weaving is and about its history?

Tapestry is a specific technique used to create an image in woven form. Unlike cloth weaving, where both the vertical (warp) and horizontal threads (weft) are showing, in tapestry the warp threads are hidden. Tapestries can be made on large vertical or horizontal looms but also on upright frames that are clamped to a table. The image is built up line by line, as individual weft strands are threaded through by hand.

In the Middle Ages tapestries were used as decoration, but also to add warmth to drafty rooms. In the 20th century, many artists rediscovered this medium and commissioned pieces with their designs, including Matisse, Picasso and Miró. Contemporary tapestry is alive and well.
Have you always been interested in textiles?
Coming from a creative family, we were always encouraged to make things whatever the medium. Although as a child, textiles were not my go-to option! I remember having to sew a strange-shaped teddy bear at primary school. It didn't go well mostly because of my preference for running round a field with a football.
How did your passion for tapestry weaving start?
I visited an artists' open studio event where a contemporary weaver was showing work. It made such an impression that I enrolled in a variety of classes. I was soon hooked when I realised how I could combine shapes and colours to communicate my own stories.
We can't wait for your workshop at Stag and Bow! What can people look forward to?
We'll start with preparing a tapestry frame and practice weaving, before learning how to change colours, start blending and beginning to weave shapes. All tapestries are a combination of these skills. It's always fun in a small group and you'll go home with your own mini tapestry. More importantly, if it's something you enjoyed, it's easy to explore further without the need for loads of expensive equipment.
If you want a moment to slow down, take a breath and learn an ancient artform, then try tapestry weaving. You don't need any textile or crafting experience, just be someone who wants to play with colour and design. The variety of colour and shape combinations is infinite!
What's on the go in your studio right now? 
I usually have multiple projects in progress. I'm weaving one piece, while another is in the pre- weaving planning stages. I always have a few ideas forming in my mind, jostling for position to be the next in the queue! I'm currently working on a smaller piece focusing on winter berries, the conclusion to a series around the seasons.
Check our workshop page for details of Bridget's upcoming classes.