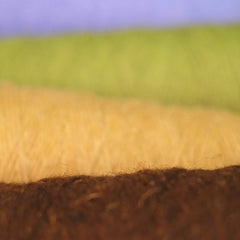 I walked into a Stag and Bow craft class one Wednesday morning about five years ago, looking for new skills to bring to my work as one of the Skip Sisters, a collective of recycler/makers based in East Dulwich. I found more than skills. Sitting at the table with a group of impressively talented women was Pascale, the shop's owner, plump and beaming with pregnancy. Tea and biscuits arrived in abundance, so did inspiration. I fell in love with the shop on the spot, and as we rearranged the tables at the end of the class, I asked if they needed part-time help. They did. That week. And so, I found myself, 'stuck in Stag', mostly as a 'retail assistant' behind a glorious, vintage glass haberdashery counter, often as a punter, occasionally as a workshop tutor, always very happily.  
Back then the shop was one just one room, with a tiny workshop out the back, behind the yellow curtain. The old schoolbook and pencil for recording daily sales that I so loved, have been replaced with the ubiquitous card reading tech, but the glass counter, Edwardian cash til and handmade recycled craft table have remained, like me, constants in the shop, fixed firmly in the middle of change. Staff and suppliers have come and gone, the space has shape-shifted into two bright rooms full of treasures, and downstairs, a spacious studio is continuously busy with workshops. Pascale still beams, and the space offers, as it always has, the possibility of learning something new every day.
Suffolk Landscape in Wool
Certainly, many of the people who come to the shop for wool feel able to talk in detail about its importance in their lives, and one of the biggest things that I have learnt since I came here is how to listen. I came here somewhat grumpy and resistant to conversation. Nowadays I enjoy the sharing of stories – the young man with a duffle bag full of green wool, attempting to knit, for the first time, a scarf for his beloved grandmother – we picked the rows back to the missed stitches, undid the mysterious extra ones, and he left wreathed in smiles; the older gentleman knitting a pink cardigan for his mother who had knitted so many jumpers for him; the new parents who envisage their babies clothed in hand-knits well into their teens choosing their first patterns. I don't like to tell them how fast those babies will grow and how many stitches stretch ahead of them over the next decade or so. I do tell them though, that those hours clicking away are an opportunity for meditation, a connection to family, to tradition, and that making anything is always worth doing, however long it takes them. And that their offerings to posterity will thankfully be a lot less stretchy and synthetic than mine were.
Learning in the shop goes both ways. In my Skip Sister days, I was always on the hunt for wool that could be shrunk to a dense gorgeous felt and in early workshops here I taught both wet and needle felting techniques. Though I am still 'felty' to my core and root about in junk shops for moth eaten pullovers to boil to the size of socks, in return for my time behind the counter I've made significant knitting advances of my own, picked up where my mum left off, knitted 'proper' jumpers for my family from patterns, in the round, on divine bamboo needles, top down and in one, sleeves and all, and even - a little reluctantly - embraced the importance of test squares, tension, needle size and yarn type, endlessly absorbing tips from customers who have been clicking away for a lifetime, and passing it on to whoever needs it next.
Pia
3.2.20