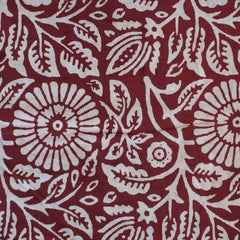 Sometimes, on the vintage fabric shelf, I see little reminders of my youth. An orange and brown barkcloth for summer shorts, blue and brown seersucker for a school dress, striped rayon in pink and brown for a midi skirt, and a lawn print of little orange and of course, brown flowers for a smock top for that sweltering hot summer in the middle of the 70s. And all against a backdrop of grandma's heavy floral curtains, glazed cotton Sanderson - Francine, my favourite pattern - giant dusky pink, blousy roses. With brown. That ubiquitous brown which spreads out along the whole shelf, improbably comforting.
Sanderson - Francine
Today's stitchers, rooting around the new fabrics on our shelves, would be hard pressed to find such a persistence of one colour, so present in every in almost every fabric option back in the day. The new fabrics in the shop are more of a jewelry box of colour. Sitting amongst Offset Warehouse's rich blue and black denims and vibrant orange hand-blocked cotton, Nutex geometrics in greens, reds, yellows. Next to rich indigos of ikat, green basket-weave cotton canvas, creams of calico, cotton, muslin. On a bottom shelf, all the primaries in long rolls of felt, a vibrant orange red madras cotton, a pile of duck grey suitings and black and white dog-tooth weave wools.
Offset Warehouse hand blocked cotton cambric
Of course, I want to buy it all. My days in the shop among the fabrics are full of plans to make clothes, and daydreams where I finish at least one thing a week, then slice off a chunk of new fabric, lay out a paper pattern and start anew. In reality, I slice off metre after metre for other people who have plans of their own, and possibly more staying power.
Barkcloth
On the kitchen table, a silent sewing machine, and a pair of open scissors, trussed in a mountain of purple thread. Hanging on the back of the sitting room door, the latest unfinished garment (don't you just love that word), a Merchant and Mills coat pattern made real in a wool blend - not the right fabric - and lined –not part of the original design. What am I doing? Trying, as always, to bend the things my way, stitch off-piste, add my own flourish, and that's why the coat is unfinished after so many attempts to top stitch the over-thick fabric (a grinding noise from the sewing machine and a slight whiff of smoke), fold the chunky seams neatly, and hide the extra bulky layer of lining somewhere inside. Anywhere.
I've come to a spectacular halt. I wonder if I should have given away the yellow mustard wool, instead of laboriously dyeing it aubergine, cutting a lining in a beautiful Offset Warehouse block print, and pockets in pillow ticking. Pascale patiently tacked the hem for me, measuring up from floor to knee, reminding me of standing on a table, mum going around the edge of my latest dress, her mouth full of pins, shorter mum, shorter.  Longer Pas, I say, longer please – now I want clothes down to my ankles. I really should have one last go at finishing the top stitching, but I don't want to break the machine, so I've abandoned the coat, hung it on the door, where I can now see that the moths have left behind their visiting cards all down the front by the button holes. I may as well let them finish the job.
Abstract Birds
There's something about not finishing things that has a familiarity for everyone, at least everyone I've talked to in the shop about it. In a basket under my bed a hand-made clown suit in black and red diamond cotton, one leg coming adrift – where did I get that? a 1920s flapper dress losing an arm – which grandma was that? – a tiny jacket waiting for a patch for a boy now almost a man, and right at the bottom something that's come round for the second time, my o-level project from the 70s - a purple smock top waiting for new buttons. Sewing baskets everywhere are full of such fabric histories. We look, defer, then start another project, unable to resist the idea of starting something new. The making impulse projects us into the future, the basket ties us to the past with its mountain of unresolved conversations, comforting in a curious way, a bit like that ubiquitous brown stretching back down the years. The threads of woven fabrics connect us to our histories, reminding us, like photos in an album, of pivotal moments, sad moments, joyous moments, moments we don't quite want to leave. Ah, I think, looking at the scissors on the table, now I get it. I should just chop everything up for a quilt.
Pia