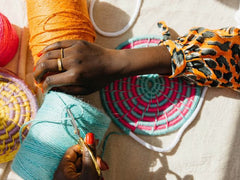 Our workshop schedule for autumn and winter is packed with so many talented teachers!
Join us as we have a chat with these creative folks to find out more about them and their upcoming workshop at Stag & Bow.
---
Welcome to the creative world of Tabara N'Diaye, the visionary artisan behind La Basketry. With a passion deeply rooted in her Senegalese heritage and a profound respect for the ancient art of basket weaving, Tabara weaves in contemporary aesthetics and celebrates the rich history this craft. 
We're delighted to be hosting Tabara for a 'Weave a Colourful Twine Basket' workshop 1st October 2023! You will be introduced to the coiling technique and weave a beautiful and colourful basket using cotton rope and rolls of twine! Book your space here.
Hi Tabara! We'd like to start by asking to hear about one of your earliest textile memories?
One of my earliest textile memories has to be my mother. Hailing from Senegal, a country where women are always so elegant and fashion plays a key part in everyday life. Everybody has a tailor who crafts their garments and this image of my mother wearing 'Senegalese boubous' - a flowing robe - made with the most beautiful fabrics, sometimes with beads and embroideries and beautiful headscarfs is definitely one that comes to mind - she has definitely instiled in me a sense of style.
How did you learn how to basket weave?
Basket weaving in Senegal is a wonderful tradition that's been handed down from one generation of rural village women to the next. I've had a deep affection for baskets since as far back as I can remember. To put it simply, I've always been a crafty person, and I've had this burning curiosity about how these beautiful creations were crafted. The vibrant colours and intricate patterns have always fascinated me and that's really what kick-started my own journey into the world of basket weaving.
Over time, I've taken some courses to hone my skills, and I've found a way to blend traditional techniques with materials more widely available. It's been a rewarding journey and most importantly it has allowed me to reconnect with my Senegalese roots. 
We're really looking forward to your basket weaving workshop! What can people expect from your class at Stag & Bow? 
Basket weaving often comes with its fair share of preconceived notions, and in my workshops, I strive to introduce the craft in a fun, playful and approachable manner.
What kind of maker/crafter/person should have a go at making a basket? 
Absolutely anyone can give it a try! The steps are repetitive, making it a breeze to grasp the coiling technique I will be teaching. If you're on the lookout for a meditative experience, you'll fall in love with it. It's easy to immerse yourself in the process and lose track of time - that's the true beauty of crafting.
Your work is so wonderfully colourful! Can you tell us more about your use of colour?
I have a strong affinity for colours, and I believe it's deeply connected to my Senegalese origins. I grew up in a home filled with colourful art pieces and vibrant fabrics. Colours have the power to uplift one's mood, and I love adding a touch of colour and a sprinkle of fun to everyday life.
What creative project(s) are you working on at the moment and what's next for you? 
While I have a couple of projects under wraps for now, one I'm truly excited about is a collaboration merging crochet and basket weaving aimed at the kid's market that will launch in the run-up to Christmas so keep your eyes out!